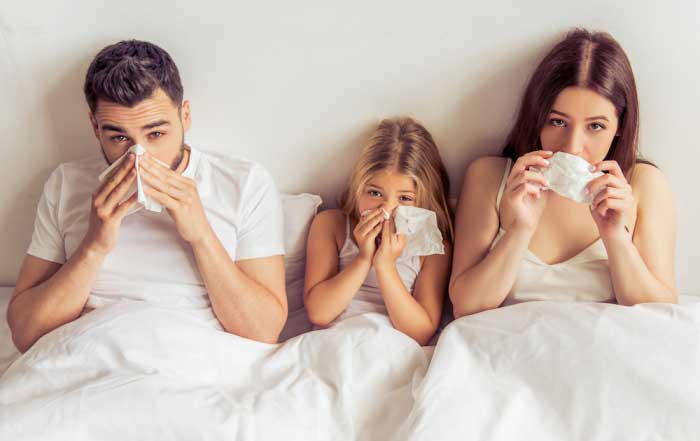 21 Jun

A Doctor's Easy Tips for Family Allergy Prevention
A Doctor's Easy Tips for Family Allergy Prevention
Recently Dr. Gustavo Ferrer, MD was interviewed on the radio about combating allergies. Dr. Ferrer is an experienced pulmonologist with interesting insights into how to defend against a host of upper respiratory issues without relying on drugs. The following is a summary of his advice.
Why are Allergies on the Rise?
Climate change and increased CO2 has created an environment where plants pollinate for longer periods of time and have an expanded habitat, leading to more allergies.
Additionally, we use a lot of chemicals on our yards and farms, which also can contribute to increased upper respiratory problems.
What remedies are there to mitigate allergies and allergy symptoms?
If you work outside, try not to bring the clothes and tools you used into your home to lessen the amount of allergens and chemicals in your living space.
After being outside, wash up right away.
Be sure to change your filters regularly on your air conditioner and furnace.
Use a saline nasal rinse with xylitol 1-2 times a day to wash the nose of pollen, dander, and other irritants. Growing evidence shows that saline with xylitol is more effective than saline alone.
Frequently wash hands.
When symptoms arise, think about the past few weeks and identify what changes could've occurred in your environment. Many times you could've developed an allergy to something that has recently popped up or you've begun using a product with a chemical your body doesn't like.
What can parents do to prevent upper respiratory problems in their children?
Persistently teach kids to wash hands and stop rubbing their noses. This is the first and most common point of contact in spreading germs
Look into their children's diet. Common American diets can kill natural defenses, specifically bacteria in the gut, which protect against illness. When changing the diet, consider implementing probiotics and limiting milk intake, since milk could increase symptoms.
Again, use a xylitol nasal rinse to wash the nose of pollen, dander, and other irritants.
Are you or a loved one suffering from allergies or other upper respiratory issues? Make sure your nose and sinuses are clean with Xlear sinus care products made with xylitol.